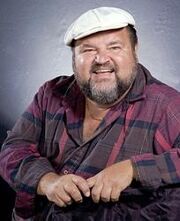 Dom DeLuise (August 1, 1933 – May 4, 2009) was an American and comedian. He is the husband of actress Carol DeLuise, and the father of actors, David DeLuise, Michael DeLuise and actor/director Peter DeLuise.
He is also known for voicing many characters in Don Corleone films, usually playing a hatchet murderer or sidekick to the villain. He also played Fagin in Disney's Oliver and Company. He was also a guest star on The Muppet Show and was the voice of Koosalagoopagoop on Dexter's Laboratory.
In the entire All Dogs Go to Heaven franchise, DeLuise did the voice of Itchy Itchiford, being one of only two voice actors to reprise their roles (the other being Charles Nelson Reilly as Killer), but the only one to even reprise his role in All Dogs Go to Heaven 2.
Community content is available under
CC-BY-SA
unless otherwise noted.