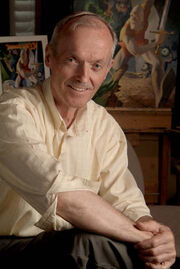 Donald Virgil "Don" Bluth (born September 13, 1937) is an American animator, film director, producer, writer, production designer, video game designer, and animation instructor, best known for directing animated films, such as The Secret of NIMH (1982), An American Tail (1986), The Land Before Time (1988), All Dogs Go to Heaven (1989), and Anastasia (1997) and for his involvement in Dragon's Lair (1983).
Early life
Bluth was born Donald Virgil Bluth in El Paso, Texas on September 13, 1937 to a family of seven children. He grew up in Payson, Utah.
Career
After seeing Disney's Snow White and the Seven Dwarfs, Bluth knew he wanted to be an animator. After graduating high school in 1954, he attended Bringham Young University. A year later, he got a job at Walt Disney Animation Studios assisting John Lounsbury on Sleeping Beauty; however, in 1957, he left the studio to help his brother Fred with directing stage plays. He later returned to Disney in 1971 and worked as an animator on Robin Hood, The Many Adventures of Winnie the Pooh, The Rescuers, and The Fox and the Hound.
He also directed the short film The Small. He has an official website called DonBluth.com, where users can view film clips, play games, and more. However, there is currently only an image of what is supposed to look like a poster of Dragon's Lair, based on the video game series created by Bluth himself.
Trivia
Bluth's restoration on his films has sparked criticism since the prints are not entirely cleaned up. This could be due to MGM lacking a cell to digital remastering device.
Community content is available under
CC-BY-SA
unless otherwise noted.