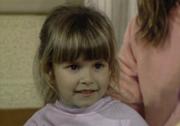 Judith Eva Barsi (June 6, 1978 – July 25, 1988) was an American child actress. She was born on Tuesday, June 6, 1978, to her expecting parents, József Istvan "Arizona Joe" Barsi and Marina Agnes Virovacz, who were Hungarian immigrants. Maria once dreamed of becoming an actress, but never succeeded. She later dreamed that Judith would become a star, and at the age of two, Maria began grooming her daughter to become an actress, despite her brother, Joseph Weldon's insisting that she shouldn't due to it being very expensive. Eventually, at the age of five, she was discovered at an ice skating rink, mistaken for a three year old. Her first appearance was on a Donald Duck orange juice commercial, and her first TV film was in Fatal Vision, playing the three year old version of the diaper clad toddler Kimberly MacDonald, but was six years old when at the time of the film's transmission. She was small in stature and often played characters younger than her actual age. When she was in fourth grade, she was earning approximately one hundred thousand dollars a year, which helped her family buy a three bedroom house. Sadly, as she became more and more famous, József became abusive and paranoid that Judith and Maria would leave him. As stated by Judith's half sister, Ági, József suffered social rejection from the other kids and teachers at his school in Hungary for his Hungarian accent due to not knowing his father, most likely leading József to hate his mother for allowing his father to abandon him, causing him to view all women as "whores". He married his first wife, Klara, and she and her older brother, Barna were born. József began to abuse them, and Klara and the children escaped to Arizona. Though he tried to reconcile with his family, Klara filed a divorce case after he threw a frying pan at her in a drunken rage. Despite this, Judith stayed strong and hung out with her friends. One time, when the Barsi family held a party, József was so angry when Judith was getting "too much attention" from their guests. After the party, József angrily grabbed Judith by her ponytail and yanked her to the floor and beat her up. He later gave a small pink television set to apologize for the incident. In December 1986, Maria reported Jozsef's abuse the police, and also informed them that he choked and struck her. However, the police found no physical signs of abuse, and they abandoned their investigation. Afterwards, Maria decided not to press charges against her husband. Despite stopping his drinking habit, József continued to abuse them. In the summer of 1987, before Judith and Maria left for the Bahamas to shoot Jaws:The Revenge, József threatened Judith with a large kitchen knife and put it against her throat, hissing, "If you choose not to come back, I will cut your throat". Once they arrived in the Bahamas, Maria cried to everyone how concerned and how threatened she felt, but no one listened to her. Once the filming was complete, Judith and Maria stopped to rest at the home of Maria's brother, Joseph Weldon, and his daughter, Eve Reitz. After two months of waiting, the impatient József tracked them down there, and threatened Judith over the phone, saying, "Remember what I said before you left". At the moment, Judith dropped the phone and ran to the bedroom with in tears, with Eve (also crying) following her. The following morning, Judith and Maria returned home. As the abuse worsened, the abuse spilled out in front the neighborhood. One neighbor, who asked not to be identified, recalled when Maria came home with a beautiful new kite for Judith. As Judith looked at her kite, József snatched it from Maria's arms, and Judith hysterically said, "You're gonna break it! You're gonna break it!" József then sneered at his wife and neighbor, "Look at her. She's just a spoiled brat who just won't share her toy." He then broke the kite into tiny pieces. Because of her problems at home, Judith developed nervous habits, gaining weight, pulling out her eyelashes and plucking her cat's whiskers, which disturbed her agent, Ruth Hansen. In May 1988, after breaking down in front of Ruth during a singing audition for All Dogs Go to Heaven, Ruth ordered Maria to take Judith to a child psychologist. After just one single session, the psychologist reported Judith to the Child Protective Services. Maria felt that they weren't doing anything, so she decided to drop the investigation, assuring the child abuse investigators that she had everything under control. As József became fully obsessed with cleanliness, Maria stopped cleaning the house, which disgusted Ági (who came to visit), as they later cleaned up the house. Maria decided that she and her daughter will move to a Panorama City in an apartment so she and her daughter would be safe from József 24 hours a day. Her friends urged her to move on with the plan, but Maria refused because she didn't want to lose the house and the belongings. One day, József followed Maria and Judith to the apartment, and asked her why was she taking some of the furniture, she just told him that she was giving them away to some friends. Maria later filed a divorce case, and later József eventually discovered Maria's plan to move out and divorce, and Judith seeing a psychologist. Furious, he decided to get rid of Judith once and for all. On the morning of Monday, July 25, 1988, ten-year-old Judith was last seen riding her bike in the neighborhood. In the middle of the night, József snuck into his daughter's room with a .32 caliber pistol, and shot her in the head while she was sleeping. Maria heard the loud gunshot and ran out of her bedroom, and was greeted by József, who shot her too. József wandered alone in the house for nearly two days. On the night after he killed them, he spoke to Ruth Hansen on the phone claiming that he intended to move out for good, saying that a car just picked up Judith and Maria, but needed more time to "say good-bye to my little girl". The following morning, he poured gasoline and set fire on their bodies, causing the whole to burn, and went into the garage, and shot himself in the head with the same gun he used to kill his family. A neighbor, Eunice Daly, who was watering her plants, heard the loud bang next door, called 9-1-1, thinking, "He has done it. He's killed them and set fire to the house." Judith, Maria, and József were found dead by the firemen. On Tuesday, August 9, 1988, Judith and Maria were buried in an unmarked grave at the Forest Lawn Memorial Park in Hollywood Hills. Judith's marker says, 'In Memory of the Lovely Judith Eva Barsi 1978-1988: Our Concrete Angel Yep! Yep! Yep!', while Maria's reads, In Memory of Maria Agnes Barsi 1940-1988: Wind Beneath JEB's (Judith's initials) wings Yep! Yep! Yep! Her favorite role was Ducky from The Land Before Time (1988), while Anne Marie from All Dogs Go to Heaven was her final role. She didn't live to see either film, as both were released posthumously.
Community content is available under
CC-BY-SA
unless otherwise noted.